Introducing CardUpdatr™
The first application that instantly updates any card where cardholders shop and make payments online – keeping your card Top of Wallet®.
Protect and increase transaction volume by getting your card on file at more sites, immediately!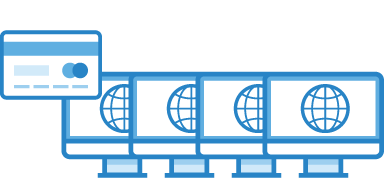 The CardUpdatr app is for web and mobile devices, 100% issuer branded and hosted by Strivve.
Autonomous browser technology performs the card updates on the cardholder's selected e-commerce sites and saves it on their behalf. The entire process of updating payment information online is carried out in seconds.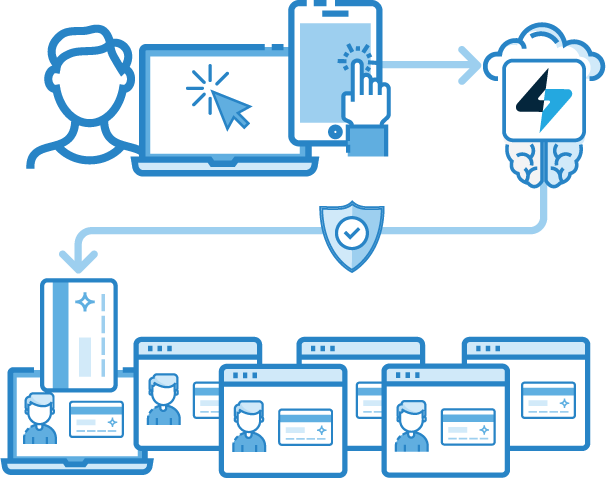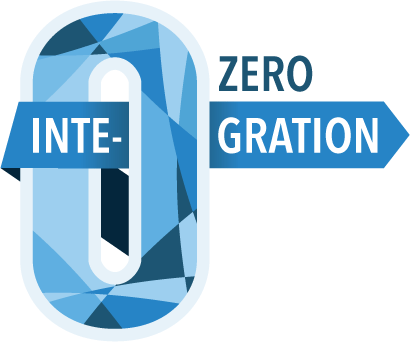 Getting started is simple and requires zero integration
Provide Strivve with a few details about your card portfolio and branding assets.
Within days, your branded CardUpdatr app is ready to provision your card on e-commerce accounts.
Share your CardUpdatr link with your cardholders using existing communication channels!
Watch your transaction volume and revenue grow while increasing cardholder loyalty and satisfaction.
Check out the Cardholder experience and update your online payment method on your favorite sites.
Below is access to our unbranded CardUpdatr experience, where you can actually update online accounts with our PCI Certified technology for free.
Try it and let us know what you think!
Acme Credit Union CardUpdatr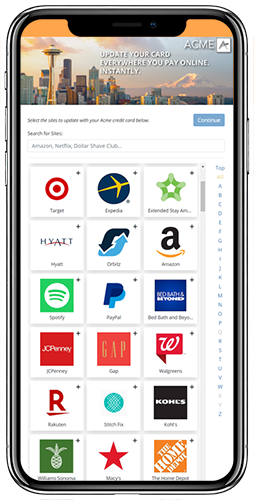 How it works for Cardholders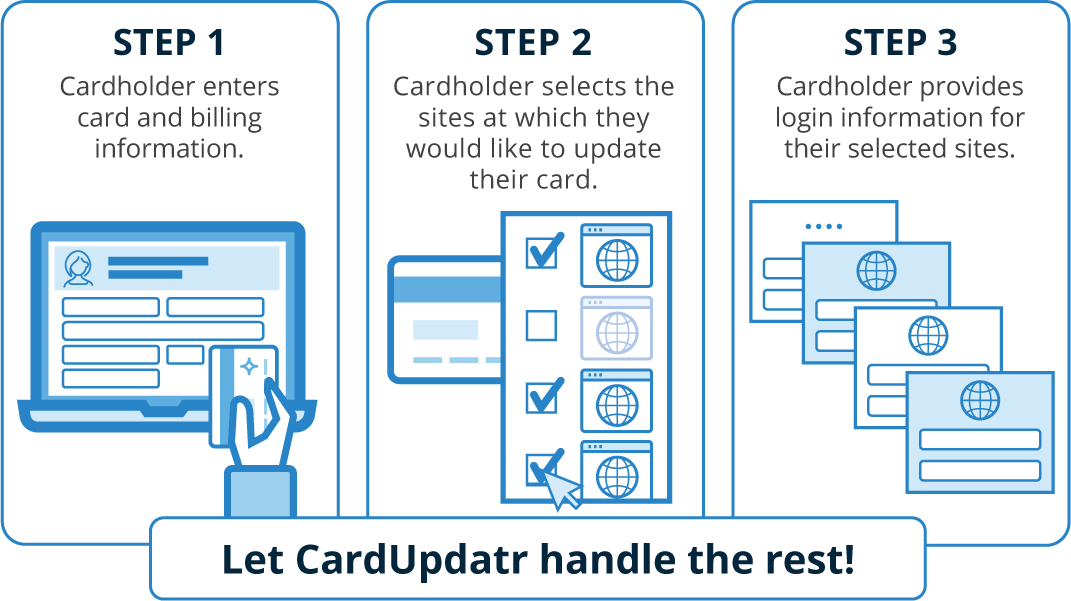 How do you market CardUpdatr? 
TopWallet™ Tools has everything you need for your team to support CardUpdatr throughout our partnership.

Upgrade your card business with CardUpdatr
Make your card Top of Wallet® with the only service that helps cardholders simply and instantly update cards everywhere they pay online.
Increase transaction volume and card revenue by getting cards into circulation faster and on more sites. With CardUpdatr, you gain insight into where cardholders store your card online while making it easier for cardholders to manage their cards.
Provide a frictionless cardholder experience and inspire your customers to use your cards.
The CardUpdatr application's streamlined process updates any card on any payment site. With CardUpdatr, cardholders get the most out of your card and increase customer lifetime value.
Reap the benefits of Strivve's CardSavr Platform immediately.
Powered by the CardSavr Platform, CardUpdatr is deployed and hosted by Strivve to provide your organization the ability to offer card-on-file updates, increasing card reach within days.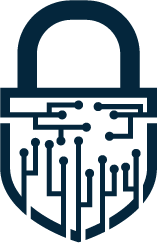 CardUpdatr adheres to Payment Card Industry Data Security Standard Services (PCI DSS) v3.2.1 requirements by utilizing a stateless app, strong encryption/tokenization, and communication only over secure channels.
CardUpdatr will never:
Read, pull, or scrape any data, including PII (Personally Identifiable Information).
Scrape Financial Institution's information to compare services or create personalized promotions.
Let's get started.
Contact us today to bring the CardUpdatr experience to your cardholders.
Get A Free Branded Preview